New Childrens Art Gallery & More Santa!
Story posted: Friday, 11. November 2011 by Andrew Danskin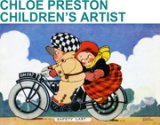 A new gallery of children's art by the artist Chloe Preston has been added, which contains 80 images, all from the 1930s period. Approximately another 20 new images from this genre can be found in the Fairy Tales and Anthropomorphic Animals galleries, whiist a further 40 new Santa Claus pictures from the Edwardian era have been added to the Father Christmas & Christmas Greetings gallery. Keep an eye on the counter bottom left to see at a glance when new images have been loaded.
Browse the gallery: Chloe Preston, Children's Artist
Viewed:
6980